5 Sep 2016
Even if they don't agree with you on the choice of man you choose to spend the rest of your life with, every woman wants to feel a little like a princess on her wedding day. If your family doesn't turn up, it's hard to pretend you're a princess – and even harder to hide your humiliation. Believe me, their deliberate absence definitely tarnishes everything.
Posted by

Esther Toks Aboderin
at 23:37
No comments:
Links to this post


Mommy Blogger & Ireland Informative Blog Award 2013

4 Sep 2016
Popular broadcast journalist, Surajudeen Taiwo Salami famously known as Olalomi Ejire has died. He died on Friday September 2nd at the Lagos University Teaching Hospital, Idi-Araba, Lagos after a brief illness. He was 54 years old.
He was the anchor of Eko Lawa on Radio Lagos and Ogbon Kayeso on Faaji FM. His remains have since been interred according to Islamic injunction. May his soul rest in peace Amen.
Posted by

Juicy B
at 21:45
No comments:
Links to this post


Hussein Emmanuel had his eyes gouged out by his friend and other accomplice for ritual.
The 18-year-old from Sara village in Tafawa Balewa Local Government Area was deceived by his best friend identified as one David Arafat who had promised to secure a job for him in Port Harcourt, Rivers State.
According to Daily Trust, David allegedly connived with another accomplice, Jerry and led Hussein to a river in Sara village where they attacked him and gouged out his eyes.
Emmanuel Iliya, the victim's father disclosed said that David asked his son for money in order to assist him to secure employment in Port Harcourt. The devastated father said he borrowed N5,000 from a friend in order to assist his son make the journey.
An uncle of the victim, Haruna Iliya, who spoke to Daily Trust said that the suspect knew the victim through another friend, Amos Munga, who has travelled to Ibadan.
He explained that the victim was earlier taken to Abuja by David, whom he said has a wife and a child there, but the victim was sent back home by the suspect to look for more money for his onward journey to Port Harcourt.
Bauchi State Police Public Relation Officer, ASP Mahmood Mohammed, who confirmed the incident said that the police will provide details on the issue later as investigation is ongoing. The suspect is still at large.
Source: Daily Trust
Posted by

Juicy B
at 21:33
No comments:
Links to this post


Wife of popular evangelist and founder of Christ Apostolic (CAC) Worldwide, Prophet S. K. Abiara, Evangelist (Mrs) Christianah Abiara, has died. The wife of the clergyman died yesterday Saturday September 3rd after a brief illness. She is survived by her husband and many children. God rest her soul...
Posted by

Juicy B
at 19:40
No comments:
Links to this post


A toddler was beaten to death while defending his mother from her abusive boyfriend during a fight about groceries, it is claimed.
Jamil 'JB' Baskerville Jr was present when his mum's partner, Zachary Tricoche, 24, started arguing with her about her food purchases, a court heard.
The two-year-old became upset and 'stepped in to intervene' after Tricoche allegedly shoved the woman at a home in New Jersey, US.
This enraged Tricoche, who punched the 29lb youngster so hard in the chest that he fell onto a wall and struck his head, prosecutors said.
When JB got back up, the boyfriend then allegedly told the tot to 'put up his hands' to fight like a grown man before punching him a second time.
The impact of the strike caused the child to hit his head against the wall again, and left him with severe injuries to his organs, NBC reports.
He tragically bled to death after his tiny liver was crushed, a medical examiner ruled.
Now, Tricoche, from Pennsauken, has been arraigned on first-degree murder charges following JB's death on the night of August 20.
He did not enter a plea and his bail was set at $1million cash, according to Fox 5 .
Posted by

Juicy B
at 19:30
No comments:
Links to this post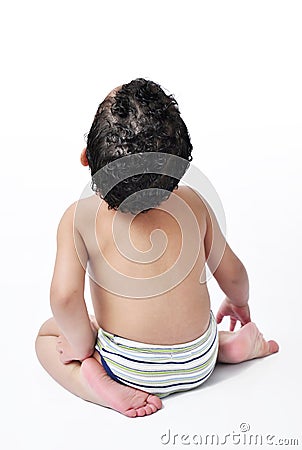 An 11-month-old baby was allegedly abducted and raped by her neighbour in Delhi on Friday night.
The baby, from Vikaspuri, had been sleeping with her mother at a make-shift shelter in a police housing complex when she was taken to a nearby jungle and raped around 10pm, police say.
Her mother only realised she was missing around 11pm and informed police.
When Vikaspuri officers found arrived at the scene, they found the 11-month-old in an unconscious state and immediately took her to the intensive care unit at Deen Dayal Upadhyay Hospital.
A senior officer said: 'The girl was bleeding profusely. Doctors at the hospital have said that her condition is serious.
After discovering an abandoned mobile phone near the child, officers were able to trace it back to the suspect.
He added: 'The police team was helped by the recovery of the mobile phone to track the location of the accused. We traced him to the labour camp.'
Police say the accused man lived with other workers in the building and that he admitted that he took the child around 10pm.
The officer said: 'He said he then took her to the bushes beside a drain and raped her for nearly two hours.'
The man has now been charged with rape under Section 376 of the Indian Penal Code and Section 6 of the POCSO Act and is being held at Tihar Jail.
The child's father later told police: 'I was horrified to see my daughter's condition. Her clothes were torn and she had nail marks all over the body. The severe injuries might have a lifelong impact on her health.'.
Posted by

Juicy B
at 15:34
No comments:
Links to this post


A Nigerian man was arrested at the Mohammed V International Airport, Morocco after he was found in possession of 1.99kg of cocaine. According to the National Police, the Nigerian passenger, who arrived onboard a flight coming from the Brazilian city of São Paulo on Tuesday August 30th allegedly concealed the banned substance in his luggage. He is remanded in custody pending the completion of the investigation.
Posted by

Juicy B
at 15:22
No comments:
Links to this post


A 23 yr old American woman Hannah Michel Gavios was seriously injured and her legs broken in a
45-metre fall from a cliff at Ao Nang in Krabi, Thailand in attempt to escape a sexual attack from a man in Thailand.
Pol Lt Songpol Bunchai, a duty officer at the Ao Nang police station said the attacker identified as Apai Ruengvorn, 28, tried molesting her twice, once at the top of the cliff and again after she fell onto the rocks below on Thursday, Sept. 1.
The second time, she bit his ear and he fled. He then called 191 to alert authorities that a tourist needed to be rescued. Miss Gavios then endured a night of pain, trapped between rocks near the sea with a suspected broken back, before rescuers found her on Friday morning.
"Officials received a call reporting that a tourist had been injured after she had fallen down a mountain in the Railay area," Krabi Tourist Rescue Centre Director Nitiphat Mongkolpradit explained.
"Rescue workers were searching for her last night, but they could not find her, so this morning we when out to search again and discovered her lying in between rocks about 45 metres from the trail at the top of the mountain. She was only 15 metres from the water below," he added.
Sarayuth Tantein, Chief of the Haad Nopparathara National Park - Moo Ko Phi Phi said,
"Last night, park officials, Railay residents and people from the local cliff climbing club, all led led by park officer Boonnam Chuyradom, went to look for the victim. They found one man, later identified as Apai Raingworn, who admitted that he became aroused and made sexual advances toward a tourist while taking her from Railay to Tonsai," he said.
Apai told officers that the woman panicked and ran away, causing her to fall down the mountain, Chief Sarayuth explained. The suspect was arrested
on Friday
after admitting to the crime. No charge have been filed as of yet, as police are waiting to question the victim, Col Piyapong told the media.
The victim was taken to a clinic in tambon Ao Nang before being transferred to Krabi Hospital. Doctors report she suffered a broken lower back and nerve damage requiring urgent surgery, she was transferred to Bangkok Hospital Phuket where she underwent surgery
Friday
night. The surgery was successful but doctors reported numbness in her legs.
"Ms Gavios is experiencing numbness on both of her legs and doctors have yet to confirm whether either of her legs are broken," Nitiphat said.
Authorities notified the US Embassy, which contacted the hospital and arranged for the victim to be transferred to Bumrungrad Hospital in Bangkok. Her current condition is not known.
Source: Bangkok Post/Phuket News
Posted by

Juicy B
at 15:11
No comments:
Links to this post


Officials at the Murtalla Muhammed International Airport (MMIA) intercepted a 37-year-old  man from Imo State after he was found to have inserted seven wraps of cocaine weighing 355 grammes

Posted by

Juicy B
at 15:04
No comments:
Links to this post


Ekiti State Governor, Mr Ayodele Fayose has reacted to today's visit of Senator Ali Modu Sheriff to former President Olusegun Obasanjo,
Posted by

Juicy B
at 08:14
No comments:
Links to this post


A primary school teacher and his husband have been found dead on a beach following claims they sexually abused teenage boys.
Aric Babbitt, 40, and 36-year-old Matthew Deyo died in a "murder-suicide" after being put under investigation over allegations of sexual contact with several boys.
Police attempted to speak to the couple at their home in South St Paul, Minnesota, USA, after a 16-year-old boy claimed he was involved in a sexual relationship with them.
However, neither man provided a statement – and it is reported they instead borrowed Deyo's brother's gun and left the city.
Nine days later, after the couple failed to contact family for over a week, a kayaker discovered their bodies on a beach on Lopez Island, Washington – almost 2,000 miles away – with both having suffered gunshot wounds to the head.
The Twin Cities Pioneer Press reports that coroner Randall Gaylord has since ruled Deyo shot his husband, before turning the gun on himself on August 24.
A suicide note was reportedly found alongside the bodies – and Babbitt's sister, Sara, later revealed the family had received a letter from the pair.
In a text message sent to loved ones, she reportedly alluded to the sexual abuse investigation – saying the pair "felt like they didn't have an out and ending their lives was best for them".
She said: "We received a letter from them in the mail yesterday.
"We are all devastated and in a lot of pain."
Babbitt and Deyo had not been charged with any crime, but were being investigated after their alleged victim went to police on August 14.
The teenager, who cannot be named, claimed the couple bought him gifts and had sex with him – while Babbitt, who taught children as young as six, had agreed to mentor him when he came out as gay to his family.
Documents seen by the Star Tribune also revealed the boy said the pair gave him underwear and took him to a jazz concert and handed over pictures of himself naked with Babbitt, telling police he didn't want 'to do this, but felt unsure about how to say no'.
At least two other victims also reportedly came forward – and Babbitt was suspended from his teaching role.
During a subsequent search of the couple's home, officials also found a hidden camera in the bathroom and a computer folder named 'Kiddies'.
The coroner recorded a verdict of murder in Babbitt's death, while Deyo was ruled to have died by suicide.
The investigation into the alleged sexual abuse is ongoing.
Posted by

Juicy B
at 08:08
No comments:
Links to this post


Former Super Eagles player, Emenike has proposed to MBGN 2014, Iheoma Nnadi. He proposed to her at a restaurant in London after the couple dated for few months. We say big congrats to them! Another photo below...
Posted by

Juicy B
at 08:03
No comments:
Links to this post


A former Minister of State for the Federal Capital Territory, Jumoke Akinjide, has reportedly returned the sum of N10m to the Economic and Financial Crimes Commission,
Posted by

Juicy B
at 07:58
No comments:
Links to this post


Teenager Sayali Kapese reveals the heartbreaking condition which has left her and her brother with snake-like skin that
Posted by

Juicy B
at 07:53
No comments:
Links to this post